Arrows/Chevrons Antique Gray Stained - Set of 3 Bundle
Set of 3 Antique Gray Stained Arrows/Chevrons: a stunning collection that adds a touch of classic style and ageless appeal to your decor. These well crafted arrows/chevrons provide a flexible method to provide a sense of direction and elegance to your area. They are finished with an antique gray stain.
Set of 3 arrows with a beautiful antique gray finish
Overall size of each arrow is 16-1/2" x 15-1/2" x 1" thick
Each piece comes fully assembled
Handmade in the USA
Size Dimensions & Weight
Additional Information
The perfect Design to Gift
Our Arrow Chevrons Sets make for a thoughtful and stylish gift for housewarmings, weddings, or any special occasion. They are sure to delight anyone with an appreciation for contemporary design.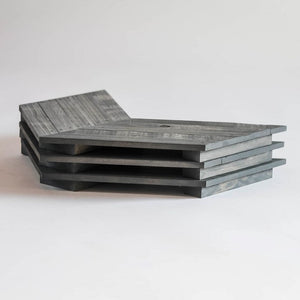 Sleek and Stylish Design
Each arrow chevron in this set boasts a sleek and minimalist design that effortlessly blends with a variety of interior styles. The sharp lines and clean angles of the arrows create a sense of precision and purpose, making them an ideal addition to any modern or eclectic decor theme.
Learn more
Beauty and the Decor
Enhance your living space with a touch of sophistication and modern flair using our Arrow Chevrons Sets. Crafted with meticulous attention to detail and a keen eye for design, these decorative accents are the perfect way to add a contemporary edge to any room.