Super cute! I bought this actually to hold two paper bags in my kitchen for a recycling container. It fits two bags perfectly, and looks stylish too! These are well made, and could easily be used for other purposes, like holding kids toys, or books, or possibly turned upright for a small side table. Looks much nicer than any others I've seen similar in the stores. Thank you!
Climb Run Bike Love
I'm very pleased with this purchase! Very well built, sturdy, and perfect as a toy box for my German shepherd! Would highly recommend!
Jordan Justice
One of a Kind Products
Unique, one of a kind pieces. If you're looking for a special gift or a piece of furniture that no one else will have, here's where you can find it. From refurbished, to repurposed or maybe a live edge table. Take a look and see.
SEE MORE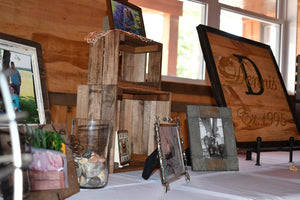 Farmhouse Décor To Help Make a Beautiful Home
Darla's Studio 66 specializes in creating lovely wood decorations for homes throughout Marion, Michigan, and beyond. These include wooden crates and other interesting materials that can serve multiple purposes
HOME CRAFTED CRATES
Our homemade, handcrafted crates come in three different sizes to accommodate all sizes of vinyl.
shop crates
CRATES THAT MAKE THE HOME LOOK GREAT