Country Décor for a Comfortable Home
A pleasant home experience begins with how it feels, and nothing influences how a room feels more than how it looks. Our comforting rustic decorations really help gives homes a relaxed and simple feeling. Don't let the rush of the modern day continue to influence how your house feels; embrace something simpler from Darla's Studio 66.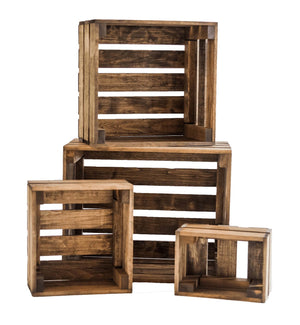 Multipurpose Crates
You won't find country décor more charmingly simple than crates, but simplicity doesn't mean they lack versatility. People love to use our crates as end tables, coffee tables, and even bookshelves! We've even had people use them as wedding centerpieces and gift baskets.
Our crates come in three colors: vintage, antique gray, and medium. We can build a custom-sized crate for you; just contact us for prices and special color options.
Handmade Serving Trays
Our craftspeople also make lovely handmade trays. People often use these as lovely gift sets, as they are both hand-crafted and hand-stained. Right now, we only offer these delightful trays in the medium color, but they will soon be available in antique gray.
Custom Signs
Our custom signs are handmade and hand-stained, just like our trays. They can be as large as 48" long, and this is a striking way to add custom farmhouse décor to your home. Our signs start at $18, and you can contact us to make special orders and receive specific pricing options.
Wood Crates Built To Safely Store Vinyl Records
With three different vinyl record sizes in the market, we are happy to provide three different sized wooden crates to store them in. Each can hold approximately 60 records, and they come 4 different colors: cherry, vintage, antique gray, and medium.
Each of these storage crates is handmade and hand-stained. These crates are available for special bulk orders, so you can save money by ordering more!