Medium Antique Gray Serving Tray
Medium-sized wooden serving tray that has been painstakingly hand-applied a stunning antique gray stain creates a beautiful balance between functionality and vintage-inspired elegance. This tray was carefully created to improve your serving experience and give your setting a touch of classic elegance.
Wooden serving tray finished with a beautiful antique gray stain
19" L x 11" W x 1 3/4" H
Comes fully assembled
Great for displaying your Rae Dunn pottery
Handmade in the USA
Size Dimensions & Weight
Additional Information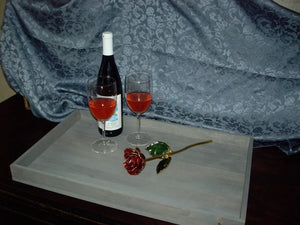 Designs to Comfort
Crafted with meticulous care, this serving tray boasts a spacious design that accommodates a variety of dishes and beverages.
Show Case Decor
More than just a functional piece, this serving tray becomes a striking centerpiece or accent for your decor.
Learn more
Purposefully Imperfect
The imperfections inherent in handmade items lend character, making this tray not just a serving tool but also a work of art that carries a story of craftsmanship.